Orthopaedic Emergency & Office Procedures
(First Edition)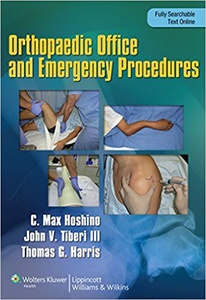 At last—a step-by-step guide you can refer to before treating a patient with an acute orthopaedic injury or a degenerative condition! Ideal for medical students, allied health professionals, and practicing clinicians, Orthopaedic Emergency and Office Procedures describes commonly encountered procedures from start to finish, from administering local anesthesia, to proper fracture reduction, patient positioning, and immobilization.
Features
Quickly access the expert guidance you need in the emergency room or office to treat orthopedic injuries resulting from trauma, as well as degenerative conditions.
Reduce patient discomfort and improve outcomes with step-by-step information on patient positioning, proper immobilization, and anesthetic techniques.
Avoid pitfalls and hone your skills with practical tips and tricks from orthopaedic experts.
See principles in action with instructive photos, line drawings, and radiographs that provide essential visual guidance.